Soros Asset Mgmt Interested In Cryptocurrency Infrastructure
Kind Of Creepy - Keep An Eye On This Dr. Evil At Work
Soros made his billions $$ by manipulating the currency markets (FX). His MO was usually to create some kind of catastrophe and then short the currency market. Therefore, it would be wise to watch what Soros Asset Mgmt is up to.
During an interview with Bloomberg TV, Soros Asset Management CIO Dawn Fitzpatrick, one of the most powerful women in the asset-management industry, said her firm is betting on crypto for the long term.
But rather than focusing on the virtual currency itself, Fitzpatrick said she is focusing on "the whole infrastructure" surrounding crypto.
Bloomberg: "Do you have an especially high level of conviction, high or negative, about strategies or themes?"

Fitzpatrick: "We think the whole infrastructure around crypto is really interesting and we have been making some investments into that infrastructure…we think that is at an inflection point."
These "crypto infrastructure" plays include exchanges, asset managers, custodians and companies that purport to help with taxes on crypto gains. Just yesterday, it was reported that Soros Asset Management has invested in Lukka in the company's $53 million Series D funding round. Her comments also come just days after Coinbase, one of the most visible crypto firms, and one of the most popular exchanges.
Also this week: Fidelity announced plans to launch its own bitcoin ETF, the firm's latest step in trying to establish itself as a leading establishment player in helping retirement savers add bitcoin exposure to their portfolios.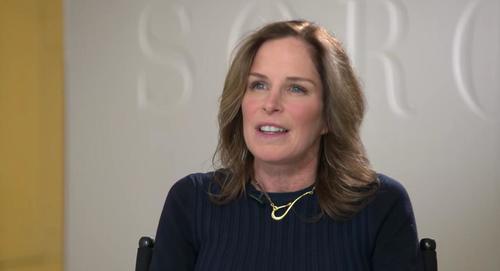 Asked about potential threats to crypto's rise, Fitzpatrick noted that growing interest in digital currencies from central banks might pose a threat, especially as the PBOC continues with its trials, eager to cement its first-mover status by launching the digital yuan, or "e-RMB", in the next year or so. Jerome Powell and Christine Lagarde have expressed interest in digital currency projects of their own, and earlier this month, John Rubino explained why central banks projects could be the first big test for bitcoin.
Fitzpatrick also described China's involvement as "a potential threat" to bitcoin. Though she believes BTC will survive.
"The one thing also when you think about bitcoin, central bank digital currencies are going to be here quicker than people expect. China has been running their trial for a while now, and I think there are some strategic reasons why they're going to be a first mover, and I do think that, from a geopolitical perspective, they want to use that digital currency…they want it to be used around the world.

[…]

"I think it's a real threat, but I don't think they'll be successful at permanently destabilizing bitcoin.